South Western's Golden Anniversary
1956-2006
50 Years of intense activity on behalf of Boxers
It began with five local founder members - June Grover (Ackendene), Maureen Johnson (Rivona) and later known in Corgi's, George and Sheila Blackler (Tintally) known well in Bassets, Jessamy Mould (Felden) a Boxer Owner since the early 1940's - One of Jessamy's first bitches Hordelfield Boadicea produced the foundation bitch for Mike Jellicoe (Finemere) who in turn produced the foundation bitch for Joy Malcolm (Skelder). So histroy was already being made. A Copy of the original application from 25 members was obtained from the Kennel Club but unfortunately it is so frail that it is impossible to reproduce it so it is readable, but the names and signatures there make interesting reading.........Douglas Bostock (Burstall), Marion Fairbrother (Gremlin), Catherine Sutton (Rossut), Connie Wiley (Wardrobes), Jean Haggie (Sheafdon), Hilda Collinsplatt who provided us with the unusual Best in Show Trophy we have. Those who have been lucky winners of this always have the problem of how to get it home without the ornate lid falling off and the figure on the top being dented. When we had our cups insured some years ago, we discovered that is was a very valuable antique Chinese Tea Urn! These are just a few of the famous people who sent there money to the Kennel Club to register 50 years ago. We were sponsered by the British Boxer Club, the form being signed by the Chairman, Mr. Mike Jellicoe and the Secretary, Mrs Catherine Sutton.
Like any exteme part of the country, it has not been the easiest area to cater for. In the begining we catered for Boxers from Gloucester, down to the South Coast and all the way through to the extreme end of Cornwall - Lands End. When the Gwent Boxer Club became the Cotswold and moved its centre to that area, it meant we shared Bristol but still have Cornwall, Devon, Somerset, Dorset, Wiltshire and parts of Hampshire under our wing. Except for Bristol and possibly Plymouth, there are no large populated areas to draw from so most people have long distances to committee meetings and other events. This is not easy for everyone but we have always coped exceptionally well. Those who admire our picturesque scenery and roads will perhaps realise how difficult it is in summer when millions of holiday makers descend on the West Country, most of them travelling just when we all want to get to a dog show!
Shows and Obedience
In the early days with no money in the bank, our 2 Boxer shows were held in conjunction with Agricultural shows – 10 classes at the Bath & West Country show and 10 at the Devon County Show, 80 or so entries was the norm. The Devon County Show is still there and many a budding judge began there with 10 classes in the early days.
Obedience Classes were begun over 40 years ago (and are still held every week) with most of the show folk joining in as well. When we began having Boxer shows we always had 3 classes of obedience as well as beauty, until we eventually branched out at our June Open Shows and included SIX classes of "all breeds" obedience from beginners up to Test C, plus one ring for Boxer obedience only. That brought us into a very different culture and it became so popular that we were getting over 60 entries in EACH all breeds class. An absolute nightmare for the secretary to find so many qualified judges (a judge for each class plus extra judges at the last minute if the number went over 60) but it grew so much that the obedience folk considered it to be one of the "Best in the West" and we were contemplating asking for it to have Championship status. We were the first dog club to use the Bath & West Show Ground – at the meeting with officials to arrange it, we realised then that they had no idea what a Dog Show was. They were making plans for the Town Band to attend and to entertain the hundreds of visitors expected!
In 1975 we heard we had CC status for the Breed Show and so had to "close down" the all-breeds obedience, much to their disappointment.
Futurity Puppy Stakes
Only the older members of the breed will know what I am talking about now, but I believe the British Boxer Club and the South Western were the only clubs to organise these events. Based on the American Boxer Club Futurity, in a simple form it meant that some long time before the event, exhibitors took out any number of claims and paid so much each. The idea was that you gambled on how many show puppies you would produce some long time ahead. Each claim was for a bitch which MIGHT have puppies ready in time. After a few months, you then had to stake a claim and name the bitch (more money went forward). Then in due course you had to name both the sire and dam involved (more money) and then finally the time came when you entered the event. Only puppies from designated bitches could enter. The point was that the money accumulated into a fund which in the end paid out quite good sums to the puppy winner, and more important its breeder. A lot of work for the secretary but it was a popular event at the time.
Sheepskins and Cheese!
Over those years we had been frantically trying to accumulate money in the Clubs coffers. Older members will remember many of us arriving at Breed Shows all over the country with piles of sheepskins and Jessamy Mould had a suitcase full of best Cheddar cheese! We sold amazing amounts. Jessamy was organiser and one day at our AGM she gave the club a cheque for £1,000, a huge amount in those days. I was Secretary at the time, and the day after I had a letter from the Kennel Club giving us CCs.
CH. Show Venues
For Many years it was a different venue every year – a tour of the West Country. It was so difficult to get venues large enough for the show and willing to accept dogs and we tried everything. Our first show was at Wotton Bassett (Wilts) – a huge entry. Open Bitch had 24 in it, won by Barry Alton's CH. Tarpen Sea Moon looking at the time for her 3 rd CC. But the CC went instead to the winner of the Puppy Class who became the big winning CH. Skelder Burnt Almond. The judge was Reg Hill (Greentops). CH. Ackendene Willy Wagtail won the Dog CC with J. Mould judging.
We were the first to use Stroud Leisure Centre – a lovely venue but we arrived to find the benching had not been delivered. No cages in those days and cars miles away in the car park, so we strung a rope round the walls of the hall and the dogs were attached to that! At the end of the day the small car park outside the door for committee members was found to be empty except for one car (MINE). Mine was locked as always, everyone else's had been towed away to the Car Park!
We then tried Newton Abbott Racecourse……..Oh the moans! Motorway all the way. But too far for people to go. Wonder why they now all rush down to Paignton Ch. Show?
The best venue of all was Longleat Safari Park, the home of Lord Bath, who actually has Boxers buried in the dog cemetery there. We even had heaps of praise from Stafford Somerfield for this one, but had we known the problems in advance we would never have tried it. Norma Byerley (Redfyre Boxers) worked there so, after numerous meetings with various departmental heads, THEY gave us the huge refreshment rooms. We put forward every "problem" such as exercising dog's etc. but all were swept aside as no problem. However they insisted on providing the tentage for the benching, at our expense of course.
Four days before the event, the benching was cancelled as they were overbooked! We found benching owned by a Collie Club, we got it to the venue but the haulier refused to erect it, so in came Shepton Mallet Scout Group to do the job. Then the NIGHT BEFORE the show, the Boss of Longleat House said we couldn't have dogs in the refreshment rooms and in any case they needed them for visitors to Longleat! Only a quick intervention by our Chairman, Tony Murray, saved the day and the show was on. Unfortunately we had planned a surprise for one of our judges – Sheila Crompton (Carnbrae). Norma Byerley often helped rear orphan lion and tiger cubs and one in Pets Corner had been lead trained – this she intended to bring into Minor Puppy Dog class (heaven knows what the Kennel Club would have said) but after all the hassle of the previous week, we daren't chance that one, so it was cancelled. I know Sheila would have enjoyed the joke. But it was a grand show – all the children were put on the safari bus and sent round the Lion Reserve for most of the day while we enjoyed a peaceful show. But we did not try that venue again.
Another venue in the Bristol Area (I won't mention its name!) we had once, as the caretaker was a dog showing person and helped to pave the way. It was great, but unfortunately he was found cavorting nude in their swimming pool with his girlfriend and was dismissed, so we changed again.
We had one Championship Show in Gwent at an American Army base, but that brought forth an irate letter from the South Wales Boxer Club complaining we had moved into there area. Personally I'd like clubs to use my area and save me travelling so far! We have now settled in the excellent Hutton Moor Leisure Centre in Weston-Super-Mare for some years, conveniently only 5 minutes off the M5 motorway.
Judges
We have always tried to appoint judges who are knowledgeable and will judge dogs and not people and so far these have come from America, Canada, Denmark, Germany, Austria, Holland, Italy, Portugal, Ireland and of course the top all-rounder's and breeders from the UK.
Seminars
With the help of club members we were running Seminars, Training Days, Teach-Inn's and film shows etc, long before they became fashionable or compulsory. For years we had one a month throughout the winter and one of the main helpers here was Chris Cray (Klanstead) who managed to get a variety of venues for these events. We attended the first Wheatley Conference, hosted it once in the Cheltenham area, and supported the Boxer Breed Council since its inception.
Pat Heath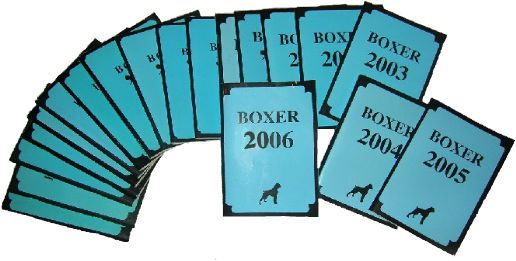 The Blue Book.......A Little Bit of History

This venture began in 1979 when the only Boxer Magazine for the breed had been Boxerama, and that had lasted only a few years. It has now going been for many years despite having the competition of a commercial Boxer Quarterly Ltd. When Andrew Brace proposed launching Boxer Quarterly, he did phone me up to talk about the competition this would bring about, and at that time we decided that the Blue Book would continue with a more serious content of articles, and his Boxer Quarterly would take the rest. The Blue Books have never been there to make a huge profit for the club, but to provide a cross section of contents for the whole breed, companion, working, educational, plus the years records. I personally would like to thank all those who have supported us with articles and adverts and all those who help sell the books, both in the UK and overseas
PAT HEATH